Faces of Fentanyl Campaign Launches, County leaders come together to fight Fentanyl on multiple fronts
October 28, 2022
NEWS RELEASE
Riverside County resident Ernie Gutierrez lost his life to fentanyl on Aug. 24, 2021. Gutierrez struggled with mental illness, and prior to his death had just started his recovery journey.
"Growing up, Ernie loved sports and played different musical instruments throughout his school years," shared his mother, Christina Rodriguez. "He graduated from Temecula Valley High School in 2012. He couldn't wait to join the Marine corps to continue his family tradition of serving his country."
Rodriguez publicly shared her son's story, including his struggle with mental illness and finding renewed hope with a joint team of deputies and therapists from the Riverside County Sheriff's Department and Riverside University Health System-Behavioral Health, respectively. Tragically, Gutierrez's recovery was cut short when one illicit pill laced with fentanyl took his life.
"We need to talk to our kids of all ages about the dangers and lethalness fentanyl is causing," continued Rodriguez. "We are in a crisis situation. We all, as a community, need to be part of the solution."
The County of Riverside this month launched a public awareness campaign, known as Faces of Fentanyl, to inform the community about the deadly drug and underscore how fentanyl deaths affect all races, ethnicities and socioeconomic groups.
"This is a very dangerous drug," said Second District Supervisor Karen Spiegel. "Our goal is to bring all the different disciplines together to share information, data, and resources, with the mission to prevent poisonings."
During a recent Faces of Fentanyl launch event, county leaders shared facts and information on the alarming rise of fentanyl deaths in Riverside County, which increased from 28 deaths in 2017 to 406 deaths in 2021. This year, fentanyl deaths are expected to top last year's highest number.
"Fentanyl has killed hundreds of people and yet many in the community know little about the drug until it impacts their families," said Dr. Geoffrey Leung, Riverside County Public Health Officer.
At the launch event, Sheriff Chad Bianco put into perspective how much fentanyl is found in the community. "Our agency alone seized more than 3.7 million fentanyl pills and nearly 400 pounds of fentanyl powder since January 1," said Bianco. "That amount of fentanyl is enough to kill nearly 94 million people or enough to kill the entire population of California twice."
In addition, District Attorney Hestrin expressed the need for a strong stance on those who deal and supply the drug to Riverside County residents. "Our office is dedicated to taking a tough stance on prosecuting fentanyl drug dealers," said Hestrin. "We must prosecute these cases because it just might save someone's life and bring justice to a family who has seen a family member lose theirs."
Led by Supervisor Spiegel and Third District Supervisor Chuck Washington, a multi-disciplinary ad-hoc committee meets regularly to combine resources to address this epidemic. The committee brings together the Executive Office, Riverside University Health (RUHS)-Behavioral Health, RUHS-Public Health, RUHS-Medical Center, Department of Public Social Services, District Attorney, Emergency Management Department, Probation Department and Sheriff's Department.
One example of department collaboration was shared during the launch event by both Ernie Gutierrez's mother, Christina Rodriguez, as well as Supervisor Washington.
"Pairing skilled behavioral health therapists with law enforcement is a crucial part of our field response," said Washington. "Often times, deputies are the first to encounter someone who is in a mental health emergency or who is overdosing. Having a behavioral health therapist with law enforcement provides immediate therapeutic care to many people on some of the worst days of their lives. This service helps people get into treatment."
The Faces of Fentanyl campaign is centered around the statement "You are not the exception. Don't be another Face of Fentanyl." The slogan will appear in public service announcements, animated graphics, static posts, and billboards in both English and Spanish. The advertisements can be seen across Riverside County and social media channels through January 2023. Earlier this year, the Board of Supervisors approved $300,000 for the advertising placements. All creative assets were made by county employees, and a local marketing agency was hired to place the advertisements.
Residents who want to learn more about fentanyl can visit the campaign website at www.FacesofFentanyl.net, which provides information on the drug, treatment resources and overdose data for Riverside County.
Cutline: County leaders and members of the media gather in front of the County Administrative Center for the Faces of Fentanyl Awareness Campaign launch.
Image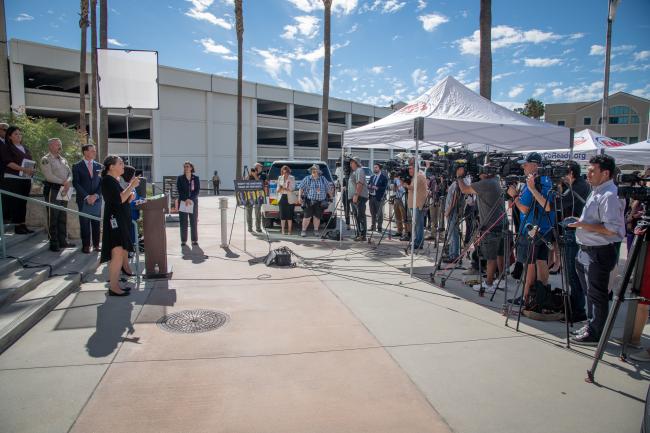 Cutline: Top row from left: Chris Rosselli (DPSS), DA Mike Hestrin, Jeff Van Wagenen. Bottom row from left: Sheriff Bianco and Supervisor Spiegel.
Image
Cutline: Christina Rodriguez, mother of Ernie Gutierrez, speaks about her son who lost his life to fentanyl poisoning.
Image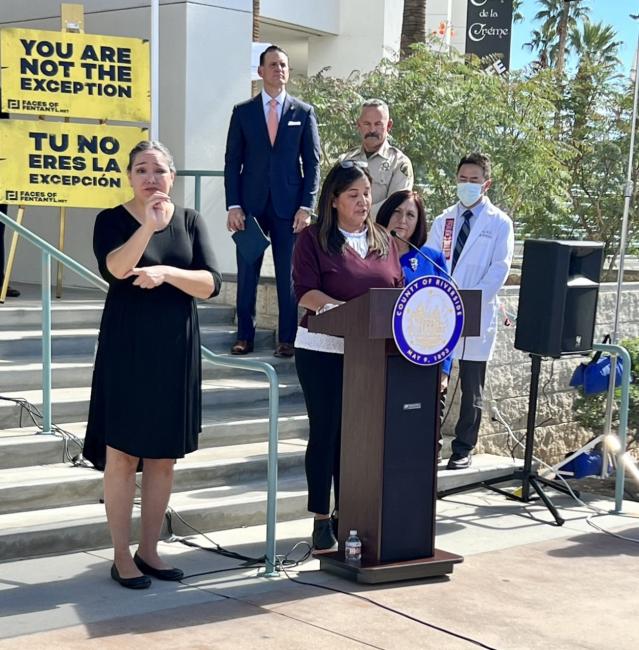 Cutline: From left: Dr.Geoffrey Leung, Michelle DeArmond, Tim Kirkconnell, Dr.Matthew Chang, Jen Cruikshank, Jeff Van Wagenen.
Image