Board of Supervisors
The Board of Supervisors is the governing body of the County, certain special districts and the Housing Authority. The Board enacts ordinances and resolutions, adopts the annual budget, approves contracts, appropriates funds, determines land use zoning for the unincorporated areas, as well as appoints certain County officers and members of various boards and commissions.
Image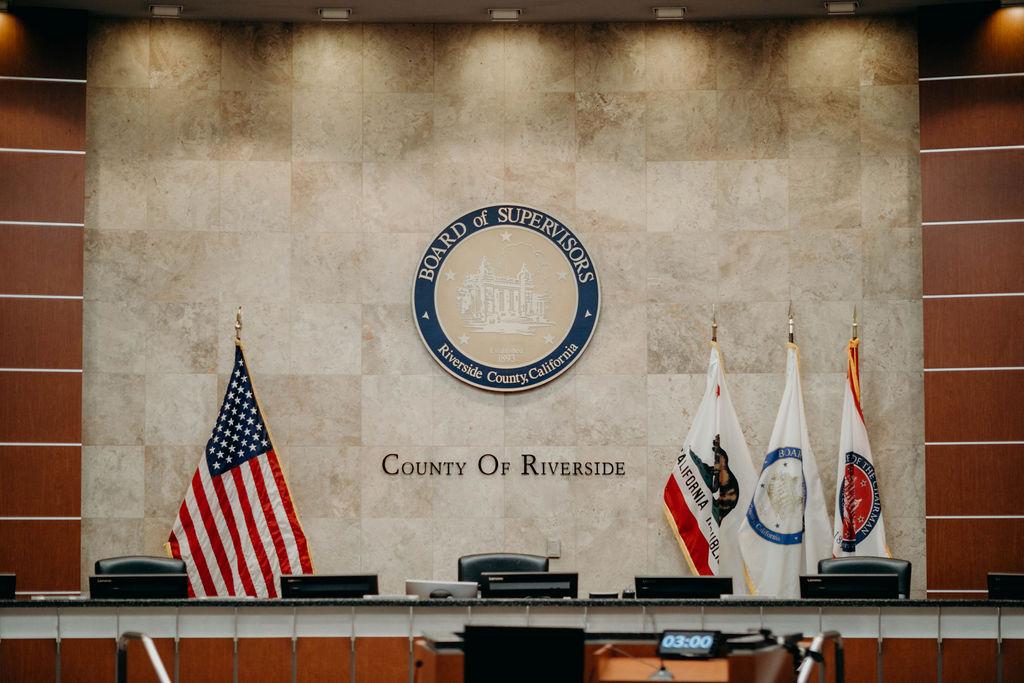 Find Your District
Riverside County supervisorial districts are made up of five separate boundaries. The boundaries are set based on population and other factors set forth by state and federal law. Every 10 years, the district lines are redrawn. The Riverside County Board of Supervisors adopted new boundaries in December 2021. The new districts go into effect at different times based on where you live. The new 2021 supervisorial district boundaries for District Two, District Four, and District Five go into effect in January 2023. Voters will elect supervisors for these new boundaries during the 2022 election cycle. The new 2021 boundaries for District One and District Three will go into effect in January 2025. Voters will elect supervisors for these new boundaries during the 2024 election cycle.
First District
Supervisor Kevin Jeffries
District 1 includes about 450,000 residents and encompasses the cities of Wildomar, Lake Elsinore, Canyon Lake and most of the City of Riverside. The district also covers the unincorporated communities of DeLuz, Gavilan Hills, Good Hope, Lake Hills, Lake Mathews, LaCresta, Mead Valley, Meadowbrook, Spring Hills, Temescal Valley, Tenaja, Warm Springs, and Woodcrest.
District Office
---
Lake Elsinore Office
16275 Grand Ave.
Building D
Lake Elsinore, CA 92530
Second District
Supervisor Karen Spiegel
The Second Supervisorial District includes the cities of Corona, Norco, Jurupa Valley, and Eastvale. It also includes approximately 1/3 of the City of Riverside, including the following City of Riverside neighborhoods: Northside, Downtown, Wood Streets, Magnolia Center, Grand and the northern half of Arlanza and La Sierra Acres. Unincorporated communities within the 2nd Supervisorial District include Home Gardens, El Cerrito, Coronita and Highgrove.
County Administrative Center
---
4080 Lemon Street - 5th Floor
Riverside, CA 92501
Third District
Supervisor Chuck Washington
The Third District stretches from Idyllwild to Anza Borrego Desert State Park, and from Temecula to San Jacinto. It includes the cities of Hemet, Murrieta, San Jacinto and Temecula, and the communities of Aguanga, Anza Valley, Cahuilla, East Hemet, Gilman Hot Springs, Homeland, Idyllwild, Lake Riverside, Mountain Center, Murrieta Hot Springs, Pine Cove, Pine Meadow, the Pinyon Communities, Poppet Flats, Rancho California, Soboba Hot Springs, Valle Vista and Winchester.
District Offices
---
County Administrative Center
4080 Lemon Street - 5th Floor
Riverside, California 92501
(951) 955-1030
Hemet Valle Vista Office
43950 Acacia Ave
Hemet CA. 92544
(951) 955-1030
Fourth District
Supervisor V. Manuel Perez
The Fourth District is geographically the largest by far, covering the eastern two-thirds of the county. Within the Fourth District are the cities of Blythe, Cathedral City, Coachella, Desert Hot Springs, Indian Wells, Indio, La Quinta, Palm Desert, Palm Springs and Rancho Mirage.
Unincorporated communities in the district include Bermuda Dunes, Chiriaco Summit, Colorado River communities, Desert Center, Desert Edge, Eagle Mountain, Indio Hills, Lake Tamarisk, Mecca, Mesa Verde, North Shore, Oasis, Ripley, Sky Valley, Sun City. Palm Desert, Thermal, Thousand Palms and Vista Santa Rosa.
District Offices
---
County Administrative Center
4080 Lemon Street - 5th Floor
Riverside, California 92501
(951) 955-1040
Fifth District
Supervisor Jeff Hewitt
The Fifth District is a truly unique and diverse area that stretches from Palm Springs in the north east to Menifee in the south. The cities within the Fifth District are Banning, Beaumont, Calimesa, Menifee, Moreno Valley and Perris. Unincorporated areas include Banning Bench, Cabazon, Cherry Valley, Desert Hills, Desert Hot Springs, El Nido area, Juniper Flats, Lake Perris, Lakeview, Lakeview Mountains, Mission Springs, Nuevo, North Palm Springs, Painted Hills, Quail Lake, Reche Canyon, San Jacinto Wildlife Reserve, San Timoteo Canyon, Snow Creek, the Sovereign Nation of the Morongo Band of Mission Indians, Twin Pines, West Garnet, Whitewater and Windy Point.
District Offices
---
County Administrative Center
4080 Lemon Street - 5th Floor
Riverside, California 92501
(951) 955-1050
district5@rivco.org
District Office
14375 Nason St. Suite 207
Moreno Valley, CA 92555
Perris District Office
137 S. Perris Blvd. #137C
Perris, CA 92570
(951) 210-1300