16th Annual KB Home Golf Classic Continues Tradition of Support for RUHS Foundation
September 20, 2022
Charitable event has raised $2.4 million for pediatrics, heart, cancer programs and more
NEWS RELEASE
RIVERSIDE, Calif.—KB Home Inland Empire homebuilding professionals and their partners teed off at the 16th Annual KB Home Golf Classic in September to support quality medical care and healthy communities in Riverside County.
This year's sold-out tournament at the Victoria Club raised a record $230,000 for Riverside University Health System Foundation, which supports the role of RUHS as a public teaching hospital and safety net provider.
Since it began in 2006, the popular KB Home Golf Classic has generated more than $2.4 million for pediatrics, cardiac care, cancer treatment and more at the 439-bed RUHS Medical Center in Moreno Valley. The tournament this year benefitted the hospital's newly accredited cancer treatment program.
As he teed up on the sprawling 18-hole golf greens, RUHS Emergency Department Director Dr. Mike Mesisca called cancer "something super personal to me," as his own dad experienced colorectal cancer at age 48.
"It's exciting to see RUHS growing our cancer program and keeping more cancer patients in Riverside County," Mesisca said. "Providing a high level of cancer care is an ambition we all have and it's exciting to move that forward."
John Fenn, division president and regional general manager of KB Home Inland Empire said the longtime partnership between KB Home and RUHS Foundation is "reflective of a shared commitment for building and strengthening communities and caring for our neighbors.
"This was by far our best year in fundraising with tremendous support from our trade partners," Fenn said, noting that the sign-ups for the 2023 tournament have already begun. "Strong partnerships are the heart of a strong community."
The KB Home tournament has also supported services in the Riverside County Child Abuse and Neglect Unit housed within Medical Center, said Nicole Orr, executive director of RUHS Foundation, thanking the company for its generosity and long-term vision for a high-quality of life in Inland communities.
"The coveted KB Home golfer awards are created each year by children who have been cared for at RUHS Medical Center and they represent the spirit of this event—gratitude for how far we've come and the bright future we are building together for future generations."
Learn more at www.ruhsfoundation.org
Image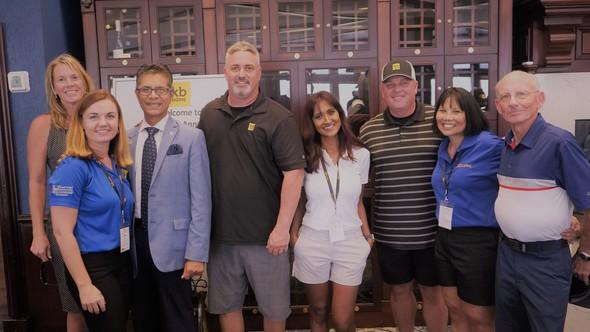 Caption: Jennifer Cruikshank, Nicole Orr, Jamil Dada, Matt Rizzo, Satti Brown, John Fenn, Kathryn Hwang, and Kerry Pendergast take part in the KB Home Golf Classic, benefiting RUHS Foundation.